There's no doubt about it, with a large backyard space comes virtually endless possibilities.
If your backyard is on the larger side, you might feel compelled to do something special with all of the free space and perhaps build your own backyard paradise with the addition of a backyard spa.
In this article, we're going to help you find the best large hot tub for a big backyard, so you can make the absolute most of your backyard and create a design that will entertain you for many years to come.
3 Best Large Hot Tubs For a Bigger Backyard Living Space
When it comes to creating a backyard oasis, a large hot tub can be the perfect addition to your outdoor living space. Not only does a hot tub provide a luxurious way to relax and unwind, but it can also be a focal point of your backyard design.
If you have a bigger backyard, you may want to consider a large hot tub to complement the scale of your space. Here are three of the best large hot tubs for a bigger backyard living space
Optima®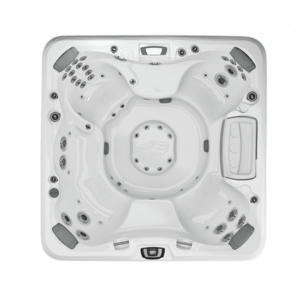 Dimensions: 89" x 89" x 37.5"
Meet the Optima® Sundance® Spas hot tub. This standard-setting hot tub is spacious enough for six to seven adults, making it the perfect asset to a larger backyard living space.
The sleek, modern design of this large hot tub can help you to create a more contemporary and bold style within your outdoor space.
Features include:
Ergonomic seats that can accommodate 6-7 people
47 hydromassage jets
Fluidix® Jets
Accu-Ssage™ Seat
Jetted foot dome
LED perimeter and underwater lighting
Energy-efficient features and technology
Learn more about the Optima® from Sundance® Spas today!
J-475™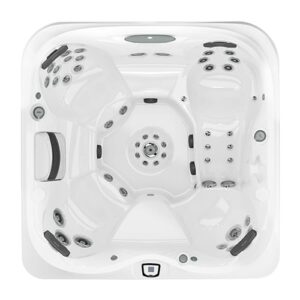 Dimensions: 91" x 91" x 37.5 – 43.5"
The J-475™ Jacuzzi® Hot Tubs model is ideal for those who have a bigger backyard space and are in need of full-body relief. The 5-6 seat ergonomic interior offers the ultimate in both comfort and style, making it the perfect addition to a backyard designed for entertainment, recreation and relaxation.
Features include:
5-6 ergonomic seats
55 hydromassage jets
RX Jet Therapy Lounge seat
Drink holders
Extra-wide illuminated waterfall
Indicator light
Color-touch screen control panel
ProFinish™ cabinetry accented by corner lighting
Learn more about the J-475™ Jacuzzi® Hot Tub today!
Claremont®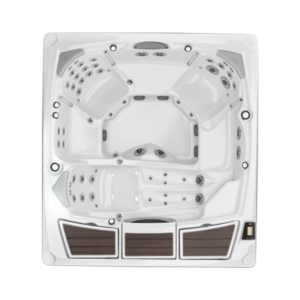 Dimensions: 92" x 100" x 34"
If we know one thing to be true, it's that many hot tub owners have fallen in love with the Claremont® from Sundance® Spas at first sight. The crisp and modern exterior cabinetry of this 6-person hot tub can make it a wonderful addition to just about any backyard space.
Corner illumination helps to promote both safety and style, which makes this hot tub the ideal choice for a family-friendly backyard.
Features include:
5-6 ergonomic seats
59 hydromassage jets
Comfortable lounge seat
Lounge deck
Interior and exterior LED lighting
SilentAir™ injector jets
Glass i-Touch control system
MicroClean® Ultra Water Management System
Learn more about the Claremont® from Sundance® Spas today!
Top Large Hot Tubs At Imagine Backyard Living
Is it time to bring a large hot tub to your backyard living space? Browse from a wide selection of 5-6-person hot tubs for sale at our Scottsdale dealership today. Our team of experts here at Imagine Backyard Living are eager to assist and help you find the best hot tub for your lifestyle.
With industry-leading brands such as Jacuzzi® Hot Tubs and Sundance® Spas, you're sure to be impressed.
Want to learn more? Take a look at some of the other articles in our online blog and resource center:
For more information, contact us today. We have a wide selection of backyard spas for sale to meet your needs. Not to mention swim spa and hot tub accessories to complete your installation.