Hot Tub & Swim Spa Service
Our team of experienced and professional service technicians is trained, authorized, and certified in all areas of caring for your hot tub or swim spa. Well-versed in leading brands such as Jacuzzi® Hot Tubs, Sundance® Spas and Hydropool Swim Spas, you can feel confident that our experts are caring for your backyard water feature with pride. Whether it's our hot tub repair and inspection service or the VIP bi-weekly cleaning and chemical service, we ensure that your hot tub or swim spa will be crystal clear and ready to use when you are. Especially if you travel regularly or leave for long periods of time during the summer months, this service is perfect for you!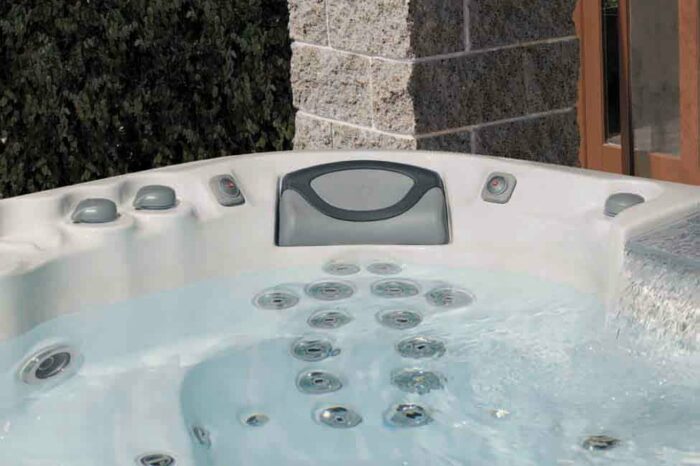 Complete Spa Service
This service includes water testing and balancing, managing water care products, filter cleaning, annual UV bulb change and annual equipment inspections, and two annual complete drains and cleans.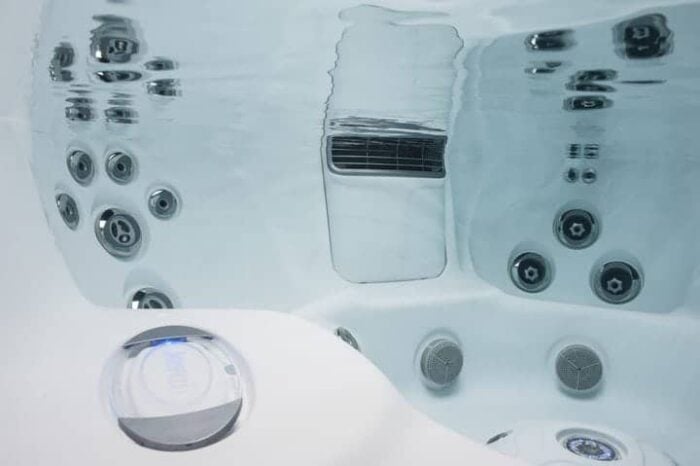 Equipment Inspection Check
This service includes a complete inspection of your hot tub system, the diagnosis of any problem areas, and a resolution or repair of any issues by one of our factory-certified technicians.
Hot Tub & Swim Spa Service
The better you take care of something, the more likely it is to last longer and provide you with a better experience. This is no different when it comes to an outdoor swim spa or hot tub. If you neglect your spa, the small issues can start to build up and really take a toll on the efficiency of the system. What was once a minor repair can quickly turn into a much larger, and more costly, service endeavor if ignored and not addressed properly. With routine service and component repair, you are much more likely to have a hot tub or swim spa that will last you for many years to come, and with an unbelievable quality, too.
When you hire a professional to care for your hot tub or swim spa, you can find confidence in knowing that the best possible person for the job is taking care of business. The team of service technicians at Imagine Backyard Living in Scottsdale are trained, authorized and certified by Jacuzzi® Hot Tubs, Sundance® Spas and Hydropool Swim Spas, to care for your hot tub or swim spa. All you have to do is sit back, relax and enjoy the incredible Arizona outdoor living lifestyle while our team takes care of the rest.
Would you allow just anybody to perform maintenance on your vehicle? What about the plumbing system in your house? The same goes for repairing a hot tub or swim spa. If something isn't working quite right, call our expert team to inspect the spa, determine what the issue is and facilitate the repair. If you attempt to repair it yourself, you may risk injuring yourself or someone else. Your health and well-being are top priority at Imagine Backyard Living, which is why we strongly encourage you to leave swim spa and hot tub repair to the professionals.
Imagine coming home after a long day at work, only to find that your hot tub needs the water changed or that your swim spa requires a repair. The last thing you want to do with your free time is treating the water or trying to figure out why a jet isn't working, which is where professional spa service can really come in handy. Forget having to schedule an emergency spa repair or cancelling your hot tub party because of an unexpected issue. This service can prove to be especially convenient if you travel often, as you won't have to worry about disrupting the cleaning schedule of your outdoor swim spa or hot tub. The benefits really do go on and on!
Our Spa Service Department
At Imagine Backyard Living, we have a fully-staffed service department with technicians who are trained and certified in leading brands such as Jacuzzi® Hot Tubs, Sundance® Spas, and Hydropool Swim Spas. Our team of experts are fully committed to taking care of every customer, while many other Valley dealerships use outside service companies. This means their customers have to get in line with dozens of other customers that the service company handles. We feel our customers are much more comfortable and confident knowing all they need to do is pick up the phone, send us an email or text and we will be there to take care of them.
Chemical service & water chemistry balance every other week (includes chemicals)
Annual ClearRay UV-C bulb replacement ($200 Annual Product w/Installation Value)
Annual inspection of all equipment to ensure warranty compliance
Twice monthly filter inspection & cleaning as needed
Special 20% discount on all hot tub parts, filters & accessories**
 Special 15% discount on all products offered in our showroom**
Top value for your hot tub when you are ready to trade-in or upgrade
Annual Drain & Clean – $500 value (At least 6 months after we begin service). If you need a Drain & Clean at the beginning of your service, the cost is $250 when you join our Always Fresh Valet
Service and you will still get 1 more during the 12 months. Here is what we will do:

Drain hot tub
Clean the acrylic interior, jets and flush all plumbing lines
Clean & condition the synthetic cabinet if accessible
o Clean the cover & apply conditioner (if vinyl cover)
o Begin to refill and add start-up chemicals.
Contact us anytime to schedule a swim spa or hot tub service appointment. You can fill out the form below and let us know your preferred appointment date and time and we'll contact you to confirm.