Your backyard space is more than just a place to relax – it's a statement of your style and your own private escape from the world.
Swim spas have become a coveted addition to backyards across the country.
With their various health and wellness benefits and warm depths that can keep the whole family entertained all year round, it's no surprise.
But to enjoy the many benefits your swim spa offers, regular maintenance is crucial, but what if you're short on time or simply need some support when issues arise?
That's where swim spa services come in!
Whether you're dreaming of owning a swim spa or are already a proud owner seeking expert advice, you've come to the right place.
Read on to discover the incredible benefits of professional swim spa services, and the many facets included.
Importance of Routine Service For Your Swim Spa
Regular service for your swim spa is essential in ensuring its longevity and durability.
Just like any other piece of equipment, swim spas require ongoing maintenance to keep them in optimal condition.
Neglecting this care can lead to a range of issues that can compromise the performance and lifespan of your investment.
Here are some reasons why routine service is crucial for your swim spa.
Prevents Major Breakdowns
Regular maintenance allows expert technicians to identify potential issues before they become major problems.
By detecting and resolving these minor issues early on, you can prevent costly breakdowns and extensive repairs in the future.
Enhances Water Quality
Maintaining proper water balance is vital for the cleanliness, comfort, and safety of your swim spa.
During routine service, technicians can test and balance the water, ensuring it is free from impurities and bacteria.
This not only improves the overall soaking experience but also extends the life of your swim spa's components, as improperly balanced water can lead to corrosion or scale buildup.
Extends The Lifespan of Your Swim Spa
A well-maintained swim spa can last upwards of 20 years, providing you with endless enjoyment and relaxation.
Routine service ensures that all components are working efficiently and in good condition, reducing wear and tear and extending the lifespan of your swim spa.
Common issues that can arise from neglecting swim spa maintenance include:
Poor water quality due to insufficient filtration or chemistry imbalance leading to skin irritation and discomfort.
Clogged filters and pump issues caused by debris build-up, resulting in decreased water flow and effective circulation.
Malfunctioning equipment, such as pumps, heaters, or control systems, which can affect the overall performance of your swim spa.
Leaks and plumbing problems that can worsen over time if left untreated.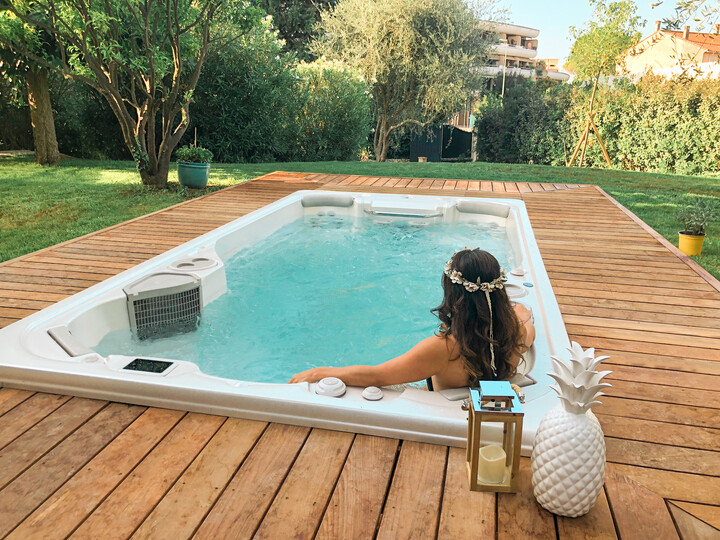 Benefits of Professional Swim Spa Service
As you can see, maintaining your swim spa plays a crucial role in your overall experience, from keeping it safe for guests to enjoy to ensuring you'll maximize its years of use.
While much of your routine maintenance can be done on your own, professional service offers a range of benefits that can be hard to pass up.
Sure, keeping your water balanced may be an easy task, but what about noticing early warning signs of damage?
Whether you're including professional service occasionally for inspections and repairs, or involve the experts more frequently for comprehensive service, here are some of the top benefits you can expect.
1. Time and Money Savings
Handling swim spa maintenance and repairs can be time-consuming and complex, especially if you're not familiar with the inner workings of the spa.
Swim spas can have intricate components, and identifying and resolving issues requires in-depth knowledge and expertise.
Let's face it, this isn't always an easy task. Professional service ensures issues are caught early, and repaired properly.
Not only does this keep your spa running smoothly, but it also saves you money while allowing you to spend more time enjoying your spa and less time worrying about its upkeep.
2. Flexibility for Frequent Travelers
If you're someone who frequently travels, finding the time to maintain your swim spa can be a challenge.
But with professional service, you can rest assured that your swim spa will be well taken care of even when you're away.
This ensures everyone can enjoy the many benefits of swim spas, no matter their lifestyle.
3. Expertise and Efficiency
Attempting to handle swim spa maintenance and repairs on your own can be daunting, especially without the in-depth knowledge of your system and proper tools.
Trained and certified technicians have years of experience, ensuring your spa is getting the best care possible.
Whether it's diagnosing issues, conducting water tests, or performing necessary repairs, they have the knowledge and skills to get the job done right the first time.
4. A Hassle-Free Spa Experience
Choosing a professional swim spa service means you can sit back and relax while your technician handles all the details.
They can keep track of necessary maintenance tasks, order genuine replacement parts, and provide you with regular updates on the condition of your spa.
This makes swim spa ownership easier than ever, ensuring you can focus solely on enjoying its warm depths while the professionals manage the larger tasks for you!
5. Warranty Protection
Professional swim spa service plays a pivotal role in safeguarding the warranty of your investment.
Most swim spa manufacturers require regular maintenance as a condition for honoring their warranties, and complex repairs to be made by certified technicians.
By enlisting the expertise of professionals, you can ensure that your swim spa receives the care it deserves, from routine inspections to necessary repairs.
This provides concrete documentation of its proper upkeep, while also ensuring DIY repairs don't void your warranty.
When it comes to protecting your swim spa warranty, leave it in the capable hands of the experts.
6. Peace of Mind
By entrusting your swim spa to professionals, you can have peace of mind knowing that your investment is in good hands.
Certified technicians understand the intricacies of swim spa care and use genuine parts and equipment, ensuring your spa is always in the best condition possible.
Don't let the hassle of swim spa maintenance detract from your relaxation and enjoyment.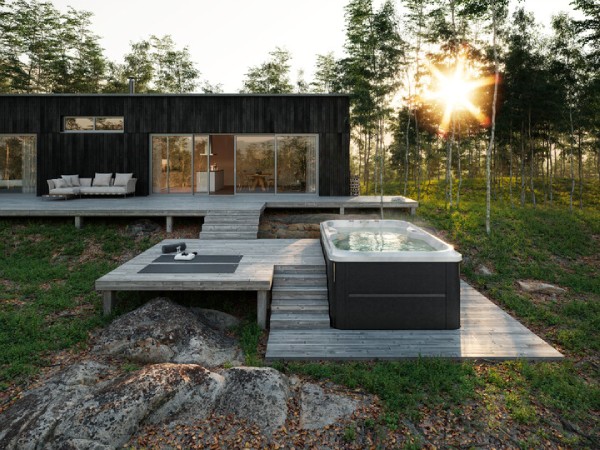 What's Included in Professional Swim Spa Service
This changes based on the provider, but we at Imagine Backyard Living firmly believe in comprehensive solutions to meet the various needs of our community.
We pride ourselves on offering a full range of swim spa maintenance and repair services.
Our goal is to ensure that your swim spa remains in excellent condition year after year, providing you with endless hours of relaxation and enjoyment.
Here are some of the most notable swim spa services we offer.
Equipment Inspection & Diagnostics
This service is designed to identify and resolve any issues with your swim spa's components.
By conducting regular inspections, we can catch problems early on before they escalate into costly repairs.
We carefully examine all the equipment, including pumps, heaters, controls, and jets, ensuring that everything is functioning as expected.
Warranty Service
Should any manufacturer defects arise, our experts are authorized to provide warranty service for models from leading brands such as Jacuzzi® Swim Spas and Hydropool Swim Spas.
This ensures you're receiving expert care from technicians trained to diagnose and repair your specific brand of swim spa.
Valet Bi-Weekly Care
Do you have a rental property of Air BnB property that has a hot tub or swim spa?
Our valet service includes regular cleaning, water testing, balancing, and filter checks, specially designed for these circumstances.
This service ensures your spa gets the best care, without you needing to stop by.
Drain and Clean Service
Over time, dirt, debris, and residue can build up in your swim spa, leading to water that's difficult to balance or damaging to your system.
Draining and cleaning your spa should be done every 3-4 months, but if you don't have time, or simply would prefer not to take this task on yourself, no problem!
Our drain and clean service involves emptying the spa, thoroughly cleaning the interior, and refilling it with fresh water before balancing it.
Filter Cleaning and Changes
Clean filters are essential for maintaining clean and clear water and should be well maintained throughout the year to ensure their proper functioning.
After all, clogged filters can lead to a host of issues, from cold water to poor circulation, and even reduced jet performance.
Our technicians will clean your filters following a precise schedule to keep them in pristine condition or replace them depending on their condition.
Component Repair
Sometimes, even the best-maintained swim spas may require repairs due to wear and tear or accidents.
Our skilled technicians have the expertise to repair and replace components such as covers, jets, filters, heaters, pumps, and control panels.
We source genuine replacement parts and ensure your swim spa is restored to its original condition.
We believe in transparency and will involve you in the repair process, from start to finish, ensuring you're aware of why repairs are needed, and what to expect.
Having a regularly scheduled swim spa service not only keeps your investment in top shape but also provides you with peace of mind knowing that trained professionals are taking care of your swim spa.
With our range of service options and customized plans, we make it easy to maintain your swim spa's longevity and durability while enjoying a stress-free ownership experience.
Trust Imagine Backyard Living for All Your Swim Spa Needs
When it comes to maintaining the beauty and functionality of your swim spa, you need a trusted partner who prioritizes customer satisfaction and support.
That's where we come in. With a fully-staffed service department comprised of experienced and knowledgeable technicians, we have the expertise and resources to handle all your swim spa needs.
Here are some reasons why you can trust Imagine Backyard Living for all your swim spa requirements:
A Dealer with an In-House Service Team
Unlike other swim spa retailers, we have our own in-house service team, extending our services far past delivery day.
Whether you require routine maintenance and repairs, or even if you have any questions about the operation of your swim spa, our team is always here to assist you.
Commitment to Customer Satisfaction
We prioritize the satisfaction of our customers above anything else.
Your complete satisfaction is our ultimate goal, and we strive to ensure that our swim spa services not only meet but exceed your expectations.
Our service technicians and staff are friendly, approachable, and dedicated to providing the highest level of care and personalized attention for every swim spa owner.
Authorized and Certified Technicians
When it comes to servicing your swim spa, you want to ensure that you're entrusting it to professionals who are authorized and certified to care for it.
Our service technicians undergo rigorous training and certification programs to guarantee their expertise and knowledge in handling a wide range of swim spa models and resolving any issues that may arise.
With our fully-staffed service department, commitment to customer satisfaction, and authorized and certified technicians, we have you covered every step of the way.
Professional Swim Spa Service in Scottsdale
Regular service is crucial to the durability of your swim spa, and neglecting it can lead to various issues that can disrupt your luxury experience.
Choosing professional swim spa services is key to keeping your spa in pristine condition and maximizing its lifespan.
By opting for comprehensive swim spa maintenance and repairs offered by Imagine Backyard Living, you can rest assured that every aspect of your swim spa will be attended to.
From site visits and inspections to valet bi-weekly care, and repair services, Imagine Backyard Living offers a complete suite of services to ensure the longevity and performance of your swim spa.
Enjoy the convenience of stress-free swim spa ownership, saving time and effort by leaving the maintenance to the professionals.
Contact us, or request service online and discover the blissful luxury of professional swim spa services today.