If you ask most people what their number one wish for their backyard is, chances are a good number will say a hot tub. There's something about the luxury of a hot tub that really takes your backyard to the next level. It's like having a little piece of your favorite resort or hotel in your own space!
However, while a hot tub may make you feel like you're on a dream trip, you probably don't want to share the experience with the whole neighborhood! In the interest of keeping your backyard hot tub dreams private, we've got some great tips to create a private backyard space for your new weekend best friend!
Why Create a Private Backyard Hot Tub Installation?
Hot tubs are a great luxury addition to a backyard, but they're kind of a private event.
You'll be in your swimsuit, and you might not want the neighbors to have a bird's eye view of that!
Hot tubs are made for relaxation, and you're not relaxed if you're self-conscious!
So, adding some privacy to your hot tub installation just means you can let your hair down more and really enjoy the moment.
This is exactly why you have the hot tub, to begin with!
15 Great Ideas For Creating a Private Backyard Hot Tub Installation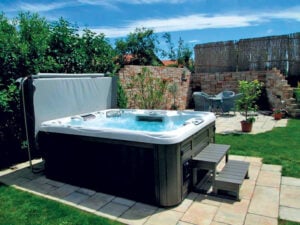 1. Beef Up Your Fence
Good fences make good neighbors. They make even better backyards.
If you don't already have a privacy fence around your backyard, or your old fence is looking tired and worn out, it's time to invest in a proper privacy fence. You have several options here:
Brick with stucco or stone finish so the fence is sturdy enough to withstand crazy weather, and you can easily match it with the finishes on your home and backyard living space.
A vinyl fence offers the same privacy as a wood fence, but it never has to be painted or stained, and it will never rot. Yes, please!
A chain-link fence is not usually considered a privacy fence, but you can add privacy slats (there are even some that look like foliage!) to make it opaque and create a private space
If you want something different, consider bamboo, a homemade branch fence, or something else – you don't even have to do the whole backyard – just enough to block the view of your hot tub!
If you are adding a fence, make sure you discuss it with your neighbors first. You will need their permission if it's going on the property line, and they might be willing to pay for some of the fences too since it will benefit them!
2. Grow a Hedge
Hedges are like nature's fence, and they're a great way to shield your hot tub from view!
There are various kinds of shrubs and bushes that can be used to grow hedges, and you can probably buy some that are already big enough to provide an effective privacy screen.
Look for plants that don't shed too many leaves for your hot tub privacy project though. You won't love your hedge if you find a ton of leaves in the water!
3. Add Some Trees
If you want to add privacy to your whole backyard instead of just screening a hot tub, there's nothing quite like trees!
A row of evergreens or cedars along your fences will fill in over time and provide an effective privacy screen for your yard while adding to the view!
As an added bonus, trees are also perfect for holiday lights, bird feeders, and, depending on the type, swings and treehouses. It might take a few years to get there, but trees are always a great addition to any backyard.
4. Screens and Lattices
Screens and lattices are a quick and easy way to add privacy to a hot tub area or any part of your garden that you want to shield from prying eyes.
Many hardware stores carry ready-made lattice and screen options that you can install yourself quite easily. All it takes is a few sturdy posts and a few screws, and you can have a perfectly private space within a weekend.
If you would prefer something a little different, you can also have a carpenter build custom screens for you. There are endless design options, so if you have a particular style or feel in mind, you can get something that perfectly reflects it.
Screens don't have to be made of wood either. There are metal and plastic options available, so you can shop around to find something that suits your taste and budget.
5. Or Grow a Screen!
This option takes a little longer, but the results are spectacular!
If you want your private backyard hot tub to have a secret garden feeling, use plants to grow a screen! A simple fence or trellis is transformed when you add a creeper or vine-like ivy or even climbing roses.
There are plenty of climbing plants available from garden centers. Some are flowering and scented, some are just leaves, but they'll all look great!
Just make sure you pick something that won't drop too many leaves and flowers, and beware of bees – particularly on flowering plants!
6. Outdoor Curtains and Awnings
When you want to keep prying eyes out of your home, you probably close the drapes, don't you?
The good news is you can do the same outside!
There are all kinds of fabric and vinyl outdoor curtain and awning options available, that you're spoiled for choice!
If your private backyard hot tub is already under a roof or pergola, you can easily attach curtains to that, or you can buy easy-to-install DIY structures that you can set up over your hot tub and even takedown during the winter if you prefer.
7. Gazebos
Gazebos are another great option for hot tubs.
Some gazebos are custom-built, and if you go that route, make sure your designer and builder know it will be used for a hot tub. They're very heavy, especially when they're full, and your gazebo will have to be designed accordingly.
There are also "portable" gazebos that you can buy from home and hardware stores and assemble yourself.
Make sure your gazebo is large enough to accommodate your hot tub and look for one that has a roof and side panels, so you can adjust the level of privacy as needed.
8. Roofs, Lean tos and Pergolas
So far, most of what we've focused on is privacy from the site. But many of us live in neighborhoods that also have multi-story homes. So, you're likely to have people on upper floors looking into your backyard from time to time.
A pergola, roof or even a lean-to-style building can shield you from prying eyes and keep the rain or snow off you (depending on the design, and when you use your hot tub!)
There are endless design options for roofs, pergolas, and lean-tos, so you can really go to town with the design. There are even options with automated screens, so you can open them when you want light, and close them for more protection and privacy.
If you do add a roof or lean-to to your hot tub install, make sure it's properly designed to be structurally sound, and remember, most of these kinds of structures will need planning permission.
9. Put It Inside!
Do you have an extra room, lower-level entertainment area, pool house, or another kind of space where you could fit your hot tub? That might be the perfect place to have it installed! There are some benefits to installing a hot tub indoors.
First, you'll never have to worry about leaves or any other outdoor debris.
It'll also be a year-round amenity, that you can use rain or shine. Plus, you can have electronics like your home theater system nearby, so you can watch the game or play your favorite music while you relax.
Hot tubs are very heavy, so if you do want to install it in your home, you need to make sure that the floor it will be on is strong enough to hold it. They're also VERY big, so you might need to measure the doors and entrances to your home to make sure you can fit it in.
The last thing you want is to have a hot tub installed and then not be able to get it in your home!
10. Build a Wall!
Walls are another great way to shield hot tubs from view, and the options are almost endless.
You could choose a modern wall clad in stacked stone or similar, or a simple brick wall that's classic and understated. You could even go wild and build a rock wall from real or faux stone.
While walls won't give you any privacy from above, you can combine them with an awning or pergola if you need to add some screening over your hot tub.
11. Tuck It In a Corner
Hot tub privacy varies greatly based on where it's installed. So, before you plan your private backyard hot tub installation, really look at the layout and features of your outdoor space. There might already be a hidden corner where you can tuck your hot tub away, so you only have to add minimal privacy measures.
Consider things like where the nearest water and power points are too, but sometimes, placing your hot tub close to an existing wall or fence, or between some trees is better than putting it right in the middle of the lawn!
Don't put your hot tub too far from your house though – you'll still want to be close enough to get a drink refill or get to the washroom when you need to!
12. Reeds, Bamboo, and More
Reeds and bamboo are two great choices for creating a private hot tub space.
You could choose large reeds and grasses that can be planted around your hot tub to create a living screen, or you could choose readymade or custom reed or bamboo mats or screens to create the space.
Another great benefit is that these materials are natural, which can help add to the ambiance and atmosphere of your next soak!
13. Oversized Planters
If you're looking for a very quick and easy hot tub privacy idea, consider oversized planters.
You can buy and install them in a matter of hours, and you can change the plants and flowers whenever you like to change the look.
14. Mix It Up!
Chances are, you've spotted more than one idea here that you think would be perfect. Remember, it's your backyard, and you can do what you like! So, you can always use two or more of these ideas to create the perfect space for your hot tub.
Pergolas and curtains, for instance. Or an awning and creeping plants. It's entirely up to you, so let your personality and style be your guide!
15. Talk to a Professional
At Imagine Backyard Living, our team has many great ideas that you can use to create a private oasis, no matter what your home and backyard look like now.
If you're in Scottsdale, Arizona, you can call, email, or drop by the Imagine Backyard Living showroom for hot tub and backyard design ideas, tips, and advice.
We've been in the business for a long time and know exactly how to give you the perfect private backyard hot tub installation you've always dreamt of.