Your backyard is an extension of your home, and for many, they're at the mercy of the elements when it comes to when and how they can enjoy their space.
But what if you could take control of your patio and make it comfortable to enjoy nearly all year long?
With the right outdoor patio heating and cooling solutions, you can do just that!
No more will you have to escape inside as the temperatures begin to plummet, or a heat wave leaves you trapped inside seeking relief.
While these amazing systems were once confined to large commercial spaces, like restaurants, they have become widely available to the general public, transforming the way people spend time outside.
Curious if adding an outdoor patio cooling system or heater is right for you?
Then you've come to the right place! Below, we're giving you a crash course, exploring the many benefits of being outdoors, what these solutions could mean for you and your home, and some amazing options to fit nearly any backyard patio!
The Power of Spending Time Outdoors
It's been long known that spending time in the great outdoors can boast some pretty impressive benefits for not just your physical health, but mental health as well.
And you don't need to escape on a camping trip to harness them!
Simply stepping into your lush backyard can do the trick, and with a space you can enjoy year-round, you'll no longer need to wait for summer for that boost of serotonin!
Here are some of the best benefits you can experience when you spend time in your backyard.
Reduced Stress
First and foremost, let's talk about stress.
With a busy world that's consumed by social media and the constant feeling of being "on," stress is at an all-time high.
Finding natural ways to combat it has become non-negotiable, and getting outside is an easily accessible solution.
In fact, studies have shown that you can decrease your cortisol levels, the stress hormone, by spending as little as 20 to 30 minutes outside.
Improved Breathing
Fresh air has also been shown to have a positive effect on the quality of people's breathing, and honestly, this isn't surprising.
The air inside can become stuffy and often holds onto allergens, even with good circulation. While there are air pollutants outdoors as well, it's far less concentrated than the indoor air.
If you're feeling congested or are simply having a difficult time with your allergies or asthma, heading outside, even for a short break, may provide the relief you need.
Get More Restful Sleep
Daylight has a significant influence on your body's basic functioning and is a key player in your circadian rhythm, the system that responds to the change in light outdoors.
By spending time outside, you can help reset your body's rhythm, improving its ability to coax you to sleep in the evening.
Boosts Your Mood
Alongside stress, being outside can also help improve your mood.
The combination of fresh air, open spaces, and the overall calm brought on by nature can help reduce anxiety and reduce the impact of depression.
While stepping onto your back patio may not be a cure-all, it's a powerful step in giving your mind a rest and allowing yourself to recharge while soaking up the fresh air and quiet.
Improves Focus
Lastly, if you're feeling the effects of sitting in front of a computer, or are beginning to hit that mid-afternoon slump and your focus is starting to waver, a quick break outside can help.
Not only will it get your body moving, but the flood of fresh air can help awaken your senses.
Furthermore, often, simply spending time outside relaxing can help turn your brain off and give it time to rest, which can help improve focus once you return to finish your work day.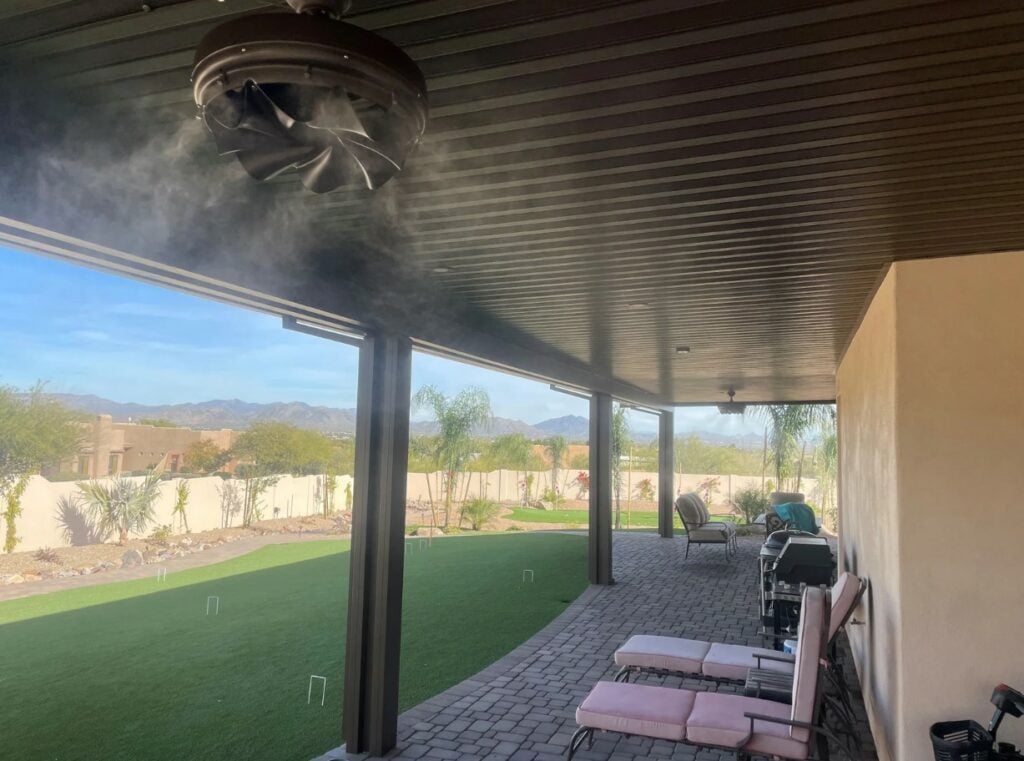 4 Amazing Benefits of Outdoor Patio Cooling and Heating
To embrace these benefits in the most easily accessible way, you can add outdoor patio heating and cooling to your space.
These solutions have seen a rise in popularity, in large part due to the way they change how people enjoy their space.
But other than greatly extending your patio use far past the summer months and the comfort they provide, what other benefits do they offer?
1. Maximize Your Home's Usable Space
One of the best benefits of adding cooling or heating solutions to your patio is the simple fact that it expands the usable space of your home.
Summer cooking is one of people's favorite activities, and while BBQ smells particularly delicious (and nostalgic), it's also beloved simply because you're not confined to your kitchen to cook.
Being able to use your patio during the fall and spring (and even mild winters!) helps alleviate the feeling of being stuck indoors and leaving a significant portion of your home unused.
This is particularly good during holidays, such as Thanksgiving and Easter, when it's usually too cold to host on your patio, but you could use the extra space!
2. Enhance Your Patio Ambiance
Another way these items help improve your patio is by elevating the overall ambiance of your space!
Heaters are especially good for this, with the gentle, warm hue they provide after the sun goes down, not only keeping you cozy but providing a suddenly intimate atmosphere.
Outdoor patio cooling systems can do this as well, as they create a stunning display of quickly evaporating water dancing in the air above you!
3. Boost The Value of Your Home
These systems also help improve the overall value of your home by creating a unique atmosphere not available in other homes.
This can be a big selling factor if you ever choose to move, and is a great way to entice higher offers simply by adding an element of luxury to your home.
However, it's not just the monetary value it improves.
These systems can also change how much enjoyment you get from your space, which in turn improves the personal value you place on it.
4. Transform How You Entertain Friends and Family
If you're someone who enjoys hosting events and throwing memorable gatherings, adding heating and cooling solutions to your patio can truly change how you entertain.
Instead of trying to fit everyone into your living space as temperatures begin dropping, you can invite everyone outside for a cozy evening under the stars.
Are you a lover of fall and wish you could have the stunning, colorful trees as the backdrop for your next dinner party? Outdoor heating makes it possible.
Or, better yet, when the sweltering heat leaves everyone fleeing indoors to seek the cool air conditioning, you can invite your loved ones over for a refreshing evening on your patio under the misting fans!
Your entertainment options become endless when you incorporate ways to keep your outdoor space comfortable and enjoyable throughout nearly all seasons.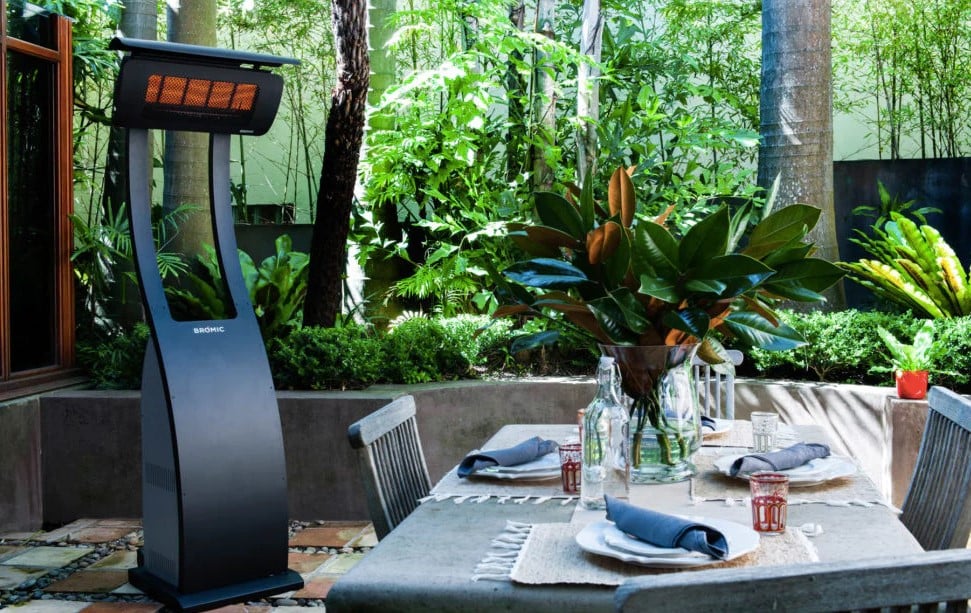 Outdoor Patio Heating
Patio heaters by Bromic Heating are a powerful solution and offer an array of styles to fit a variety of spaces.
From gas heaters to electric models, there are plenty of options to complement the unique needs of your space.
These stunning heaters can become a focal point of your space, with elegant curves and beautiful orange hues.
Best of all, they've been designed in a way to provide a steady, reliable heat source that's up to three times more efficient than traditional outdoor heaters!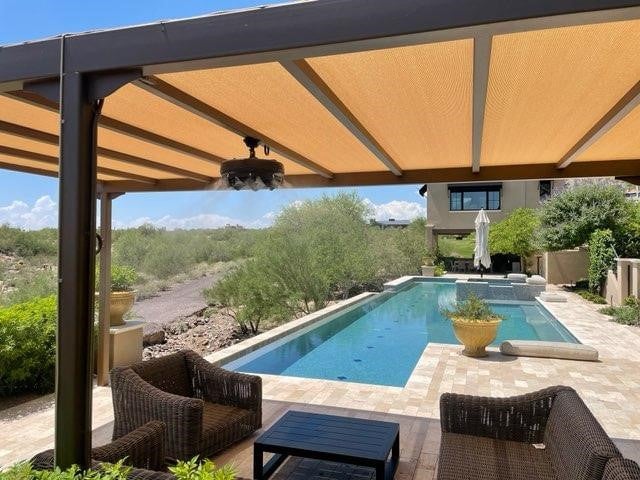 Outdoor Patio Cooling
One of the best outdoor patio cooling solutions that's been sweeping homes and commercial spaces across the country are misting fans by industry leader MistAmerica®️.
These misting fans work by releasing a gentle drizzle of water to cool the air directly.
While you may jump to the conclusion that this would leave you and your guests wet, the reality may be rather surprising.
Due to the fine mist and the specialized nozzles, these fans are able to produce a light sprinkling of water without ever getting those sitting below wet!
Essentially, the fine mist of water quickly evaporates in the air, cooling the temperature around you without you ever feeling the dampness released from the fans.
Watch this short video to see them in action.
Outdoor Patio Heating and Cooling Solutions at Imagine Backyard Living
Updating your outdoor patio with modern cooling and heating solutions can transform how you use your space, bringing your relaxation at home even further.
The team of backyard leisure experts at Imagine Backyard Living is here to help you find your perfect outdoor heaters or cooling solutions.
We carry premium products that will leave you in awe, and provide you with the relief you crave each time you step into your outdoor space.
We'd love to hear from you and share even more about these products.
Prefer to see them in person? Visit our Scottsdale, AZ. showroom to discover the power of these products first-hand!