Dimensions: 89" x 89" x 34"
Spa Volume: 370 gals / 1401 L
*Limited Availability*
The evolutionary Lisbon™ spa offers space for up to five adults to rest comfortably. This space is wrapped in breathtaking cabinetry and offering more ways to relax than ever before. The Lisbon™ hot tub model will change the way you use your spa. Fall in love with the crisp, rhythmic texture of the exterior cabinetry. Its illuminated corners offer a splash of whimsy to the spa's classic beauty. The deck also features an integrated SunCooler™ cold storage area. The versatile seating options throughout the Lisbon™ spa model ensure that any sign of stress and strain will be soothed. The recliner-style lounge seat molds to your body for superior comfort and full-body relaxation. This 980™ Series spa also includes an upgraded Accu-Ssage™ therapy seat, which provides a deep-tissue massage via patented Fluidix® massage jets. Simultaneously soothe your muscles and senses with specialty Silent Air® injector jets and SunScents™ Aromatherapy system. In addition, the glowing Glass i-Touch Control allows you to enjoy your spa. It is compatible with the SmartTub™ app so you can monitor and manage your spa from anywhere at any time. Best of all, CLEARRAY® UV-C Technology, a quick-drain feature, and the advanced MicroClean® Ultra Water Management System ensure that maintaining your spa is always a breeze.
Lisbon™ Hot Tub Specifications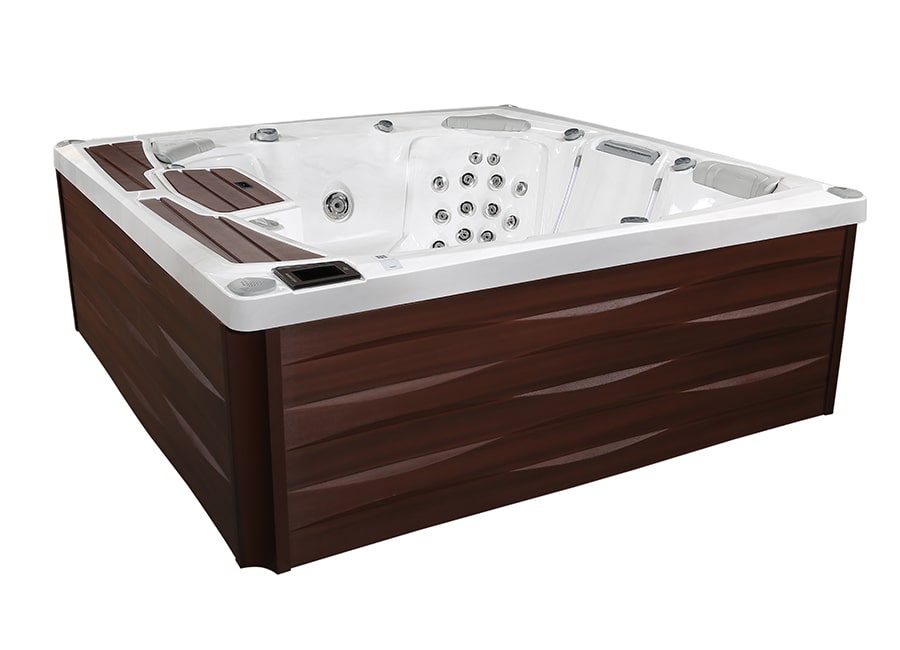 Dimensions: 89" x 89" x 34"
Spa Volume: 370 gals / 1401 L
Filled Weight: 2,187 kg / 3905 lbs
Dry Weight: 371 kg / 819 lbs
Primary Pump: 1-speed/2.5 hp continuous
Secondary Pump: 1-speed/2.5 hp continuous
Filtration: CLEARRAY® UV-C Technology + Filtration
Filters: MicroClean® Ultra Filtration System, 130 ft² (2 interlocking cartridge filters)
240 VAC 60 Hz @ 50A or 60A
The 980™ Series is teeming with customer-favorite features and intertwined with new elements you'll soon fall in love with, too.
CLEARRAY® Filtration
Treat water with the power of nature-inspired UV-C technology to neutralize waterborne pathogens, resulting in clean, fresh water.
Lighting and Waterfalls
Architectural corner lighting highlights the exterior while color-changing LED lights illuminate built in SunCoolers™, a soothing waterfall and softly highlights key seats.
Controls
Advanced i-Touch Glass Control panel with illuminated smartphone-inspired design eases use day or night and includes SunSmart 2.0 WiFi app for remote control and monitoring convenience.
SunCooler™ and Conversation Deck
Integrated cold storage, removable lid matching exterior cabinetry and pump-assist drain for convenience. Also serves as additional seating for socializing out of the water without leaving the spa.
Cabinetry Access
Resilient synthetic wood cabinetry carved with a gorgeous geometric design features a tool-free clip system to make maintenance a breeze.
Low Entry
Low profile height makes it easier for everyone in your family enter and exit the spa.